Hooray, we are in the final month of our Spring Season and you know what that means! Many of our racers will be putting all their hard training to the test in their first adventure race, Too Cool's Mighty San Gabriel on April 24th at Lake Georgetown; Houston Fit AR's target race this season. Veteran racers will have the opportunity to come out of the winter lull to challenge themselves with the Mighty San Gabriel's 12 hour race as well. Have you registered yet? Register by April 9th to receive the lower race rate. Late registration thereafter. See you out there!
In This Issue
Summer Season Starts May 10th!

Registration for the Summer Season will open soon. If you know of anyone looking to learn more about adventure racing or our training programs, please invite them to attend our upcoming Summer Season Informational at REI - Galleria (7538 Westheimer Rd) on Thursday, April 29th at 7pm.
Practices for the Summer Season will start on May 10th and conclude July 17th with our target race, Terra Firma's final Summer Sprint Series race at Muleshoe Bend Park. When you register for our Summer Season later this month you will have the option to sign up for one season or the remainder of the year of training (summer and fall seasons) at a discounted rate of $200.
Referral Program

With our Summer Season right around the corner, don't forget about our referral program. This program, made possible by our featured sponsor, Volant Solutions, rewards current members of Houston Fit AR for referring new members. With one referral you get $25. With two, you get a free race jersey. And with three or more, your summer season membership is free!
When registering, please ask your referred member to indicate your name when filling out the section "How did you hear about us?"
Look At You Now!

By Fayza Elmostehi
Wow. No, really. Wow! Look at you. When you began this adventurous journey in January, you had no idea what you were getting yourself into. You didn't have any of the required gear (okay, so maybe you had running shoes...well, maybe), you didn't even know Memorial Park had bike trails, and you had no idea the Buffalo Bayou was good for anything but drainage and refuse. Let's face it: You were as novice as novice can be.
And look at you now. Wearing spandex without shame! Ditching that standard-issue flat-bladed paddle! Kicking the reflectors on your bike tires to the curb! Becoming a regular visitor of state parks! Gearing up for the Club Race this weekend! Getting psyched for your first real-live adventure race at the end of the month! Sure, you're still lovingly referred to as "novices," but at this point, there's nothing beginner about you any longer.
In January, you entered this sport as a wet-behind-the-ears rookie. In a few short weeks, you'll earn the first official badge of experience on your bona fide adventure racer belt. But it won't stop there, 'cause you'll have just found your first checkpoint on the longest leg of all - a love affair with adventure racing.
Nutritional Corner

Race Day Nutrition
By Steve Mertz
You've made it to race day! Finally the big day is here and you have the training, you've been fueling for your training, but what do you eat for race day? Well we shall try to explain it here as briefly as possible but, be fore-warned; this article will be slightly longer than my others (a lot of info to cover!)
Race Week
Race day nutrition actually starts several days before the race. You may have heard about carbo-loading (eating a lot of carbohydrates like pasta) the night before the race, etc. But that doesn't really help as much as most people think. What you want to do is make sure you are eating higher carbs throughout the week. But don't go crazy! You don't want to eat more calories than normal, just ease back on the fats and proteins and replace with carbs. This will help make sure your glycogen stores (stored energy in your liver and muscles) are full, and get refilled as you use up the glycogen through normal usage.
Gadgets, Gear and Grub (G3)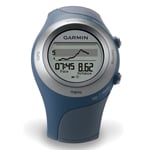 By Scott Shoaf, Veteran Paddling Coach
This month's installment of G3 would probably have to fall under the "gadget" category, although some would argue that it could be classified as "gear".
I purchased a Garmin 405CX GPS watch about three weeks ago and have found the learning curve to be somewhat steep. The watch itself has two buttons and a touch sensitive bezel that has four more functions, so it takes daily use to get the menus down.
Sponsor Spotlight

Volant Solutions has been a valued sponsor of Houston Fit AR, making possible the lucrative referral program we are able to offer active members. Volant Solutions is an independent software vendor with significant experience delivering software solutions that automate and integrate technical data, applications and work flow processes.
Newest Elite Members

Since introducing our Elite Membership Level*, numerous members have recently reach this status. Aimed at rewarding veteran members who have helped grow our team throughout the years, our Elite Members are not only valuable assets to our team, but also to the sport of adventure racing as a whole. We thank them for sharing their enthusiasm for AR with our novice members and, at times, the community at large.
A big congratulations to our latest Elite Members: Robert S., Patricia B., Ben S., and Vanessa R.
*Elite Membership status is granted to members who have trained with Houston Fit AR for at least two years. Annual cost for an Elite Membership is only $150 per year - nearly half of what a returning member pays for one full year!
Cheering Section

Buffalo Bayou Regatta (03/13/2010)
Canoe & Kayak Race
Stacie G. & Nate B. - 2nd Mixed Canoe Recreational
Fayza E. - 2nd Women's Solo Unlimited
Lisa G. - 4th Women's Solo Unlimited
Helena F. & Bobby K. - 6th Unlimited
Scott S. & Tracy J. - 8th Unlimited
Murray H. - 8th Solo Unlimited Surf Skis

NAV TEXAS (03/21/2010)
Navigation Race
Cody T. - 1st Overall (1st solo)
Bobby K. & teammate - 2nd Overall (1st 2 person co-ed)
Gabe H. & Nicki A. - 3rd Overall (2nd 2 person co-ed)
Scott S. & teammate - 6th Overall (4th 2 person co-ed)
Ken N. & Brian G. - 9th Overall (2nd 2 person male)
Jason M. - 10th Overall (4th solo)

Gnarly Naduah Adventure Race (03/27/2010)
12 Hour
HFAR / Knights - 1st co-ed (1st Overall)
Sprint
HFAR Skittles - 3rd co-ed (7th Overall)

Photo Gallery

(from top left to right): Team HFAR / Knights (Gabe, Nicki, & Chad) earn their first place finish at Too Cool's Gnarly Naduah 12 hr adventure race. | Team HFAR Skittles (Ken & Deissy) scored 3rd place at Too Cool's Gnarly Naduah Sprint adventure race. Did we mention this was Deissy's 1st adventure race?! Way to go! | Our racers (John, Nathan, & Randi) don't let a little rain get in their way during our Trick brick practice at Double Lake. | Sara & Kristin ready to get after it at practice! We love to see those smiling faces!
Newsletter Contributions

If you've got something to say, we want to hear it! Email Cody & Bambi at organizer@ houstonfitar.com with your articles, photos, story ideas or suggestions, and we will try to include them in our next issue.
April Events
HFAR EVENTS
4/08 - Social
4/11 - Club Race for Spring Members
4/24 - Spring Season Target Race & Campout
4/29 - Summer Season Informational (REI-Westheimer)
RACES AND EVENTS
COMMUNITY
4/08 - GHORBA - Memorial Park Trail Maintenance
4/12 - GHORBA Meeting
4/13 - GHORBA - Memorial Park Trail Maintenance
4/15 - Buffalo Bayou Partnership - Foodie Floats
4/22 - Advanced Bike Maintenance (REI-Willowbrook)
4/24 - Advanced Bike Mechanics (REI-Willowbrook)
4/24 - Buffalo Bayou Partnership - Bayou Bash 2010
4/27 - Bike Houston - Regular Meeting
4/29 - Buffalo Bayou Partnership - Foodie Floats
HOLIDAYS & SPECIAL DAYS
4/01 - April Fool's Day
4/02 - Good Friday
4/04 - Easter Sunday
4/22 - Earth Day
4/30 - Arbor Day
BIRTHDAYS
4/01 - Tracy K.
4/04 - Stan C.
4/17 - Nicki A.
4/30 - Chris B.